Selling your clothes online is simpler than ever and you've got lots of different apps and websites to choose from when you decide to list your items for sale. Let's talk about 5 of the best apps to sell your clothes online.
It's a great way to make some extra cash from clothes that aren't your style or that you don't fit anymore. It's also a solid way to recoup some of the spending you've done on clothing items, whether that's for yourself or for the rest of your family. Clothes can be pricy, so there's no reason not to get some of that cash back!
Affiliate Disclaimer: Some of the links in this post and other posts on my site are affiliate links, which means that I will get a small percentage of purchases you make through those links. As an Amazon affiliate, I earn from qualifying purchases. Check out my whole (super boring) affiliate disclaimer right here.
You can even start a profitable side business reselling thrifted clothes online using the apps and websites on this list.
Here's the list of my favorite apps to sell clothes online, including pros and cons of each platform.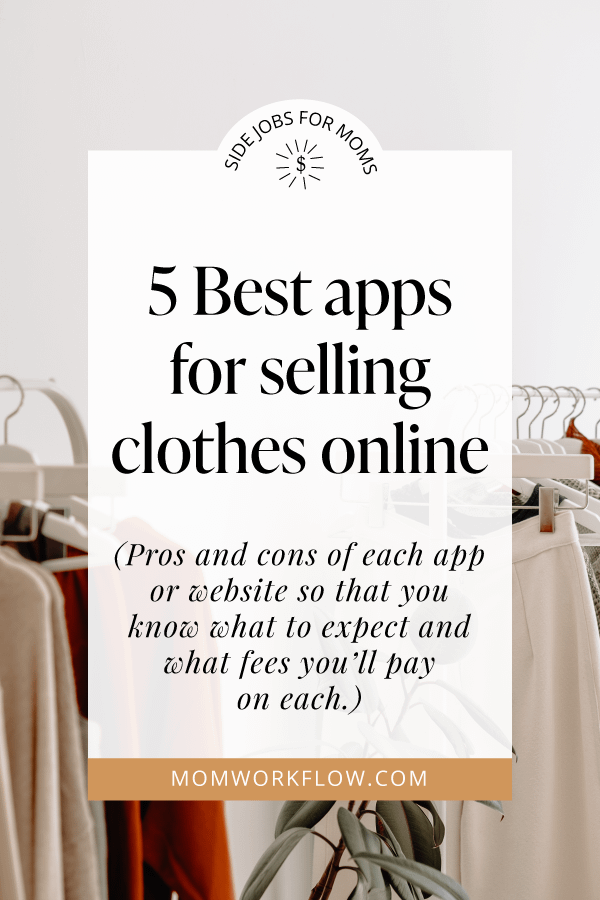 1.) eBay
The OG, if you will. This behemoth of a platform is still one of the most popular ways to sell clothes online because it still works well. It's a pretty seamless process if you can get past the somewhat outdated and complicated user interface.
They've done some simplification recently, but you can still expect this site to be the most complex in terms of getting to know the platform. Their fees are a bit lower than many of the other top platforms for selling clothes online are, though, so a lot of sellers will go straight to eBay for that reason.
eBay Pros:
Lower fees on your sales (10% final value fees on clothes + any PayPal fees if you use PayPal)
Biggest number of potential customers (106 million estimated monthly users as of Dec. 2019)
You can sell pretty much anything there, you're certainly not limited to clothing
It's a solid, well-trusted site that buyers and sellers have been using for over two decades
eBay Cons:
The site is overly complex if you just want to sell some clothes. Not recommended for someone who just wants to sell a few things unless you have already used eBay and are comfortable with it.
Figuring out shipping costs is a bit more difficult on eBay than other platforms
Some eBay sellers say that eBay is really pushing their top-rated seller program and it's hard to get your listings seen if you're not in that program. That being said, I'm not sure how much this will really affect you if you're just selling some things here and there.
All in all, you can't go wrong with eBay, but it might take you a little while to get used to their dashboard and seller tools.
2.) Poshmark
Poshmark is a super popular app to sell clothes on, whether you need to sell a few things or you want to be a full-time clothing seller and make your living this way. (Really, people do that! Here's a YouTuber who does it full time.)
Poshmark has been around for a few years now and it does have a pretty good reputation. They charge a 20% fee on sales except for sales of items priced under $15 – the fee for those sales is $2.95. You get a pre-paid shipping label emailed to you after every purchase, which makes it super easy to get your sales out the door quickly.
Poshmark is my favorite platform to sell on because of how simple it is. The app is so easy to use, which I love. I've sold the most clothing on Poshmark than any other website or app on this list and plan to continue using it. They allow more than just women's clothing, which is great.
Poshmark Pros:
Simple, easy to use app with a simplified shipping system
More categories than just women's clothing: You can sell men's, kid's, pet items, home items, and makeup on Poshmark as well
There's a lot of ways to get discovered and promote your listings for free on Poshmark
Buyer tend to hang out on Poshmark for a while and there's an active user base of over 50 million people as of 2019 (Latest stats I could find!)
Buyers pay shipping all of the time, so you don't have to worry about miscalculating anything
Poshmark Cons:
20% seller fee, which is definitely on the high end
$7.45 expedited shipping on all orders and you don't have a choice in this, so that can be frustrating for some people, but buyers can save on shipping by bundling items together
Can be a bit time-consuming to "dominate" Poshmark if you're a full-time seller
3.) Mercari
Mercari is a bit newer than Poshmark but has been running for a few years now and it's a great app to sell your clothing or other stuff online.
Their fees are on the lower end of the spectrum at just 10% and they have several options when it comes to shipping. I recommend sticking with their prepaid shipping label, which is easier and usually less expensive than getting your own. Both of those things are reasons I think Mercari is one of the best apps to sell clothes online – it takes the least money out of your pocket after a sale.
Get the Mercari app here or create an account on their site.
I use Mercari here and there when I have time to cross-post items. I've never had an issue with it and recommend it.
Mercari Pros:
10% seller fee, which is great compared to most other platforms
You're allowed to sell more kinds of items here than the other apps, aside from eBay. Along with all clothing, they allow video games, home items, vintage, appliances, outdoor gear, electronics, and lots more
Decent amount of users, around 17 million in 2019
Their shipping label cost is great and the shipping is easy to deal with if you use their prepaid system
Mercari Cons:
It's less niched-down than other apps that have clearer target markets, which makes it less likely that the people on the app are looking for the items you're selling
4.) Curtsy
Curtsy is a newer (iOs only) app for selling clothes without meeting up with people and it focuses more on the younger crowd, Gen-Z and Millennials.
They take a 20% fee on all sales, or $3 for items under $15, just like Poshmark.
They offer a shipping kit with 10 mailers and some stickers for $2.99, but you're better off buying a pack of 100-200 mailers for under $20 depending on what size you get. I recommend grabbing 6×9 polymailers and 12.5×15 polymailers when starting out – those two will fit most clothing items.
Curtsy Pros:
Simple selling and shipping experience
Targeted userbase, so if you have a lot of clothes that are on the trendier side for younger women, this would be a good app to try selling your clothes on
They have a referral program that you can take part in if you end up liking the app
Curtsy Cons:
Fees are on the higher side (20%)
Newer app, so smaller userbase and doesn't have a track record yet
They only allow "most" categories of women's clothing, so more restrictive as far as what you can sell
iOs only
5.) ThredUp
So, with ThredUp, you're not going to make a huge amount of money because they resell the clothes you send them. This is an option for any clothes you have left sitting around after you've attempted to sell them for a while and you just want to get rid of them.
You'll get paid a little bit for anything they accept and you'll get paid a percentage (10-80%, this really varies depending on the brand) of everything that sells. They will recycle anything that doesn't get accepted or doesn't sell.
Here's where you can request a "clean out kit" from them, which they will mail to you for free.
You might just say "I'd rather donate clothes than get a few bucks for them" and that's valid, of course. But know that most clothes that get donated end up never being sold and just go to landfills. ThredUp helps this fashion waste issue by funneling some of those clothes you send to them back into the economy. That means someone will get more use out of them instead of rotting slowly in the trash.
This is not sponsored by ThredUp, I just admire what they're doing and I buy clothes for myself from there all the time. I've used them for selling stuff, too – they're great both ways.
ThredUp Pros:
Great place to offload items that aren't selling. Get a bit of cash without having to take photos, answer questions, or ship things out yourself. (But don't send them junk, please!)
ThredUp recycles items that don't sell or don't accept
They help keep clothing being used instead of heading to a landfill
They accept more brands than most consignment stores. Anything with a size tag can potentially get accepted, so no specific brand list
ThredUp Cons:
You won't get paid a ton because ThredUp is taking on the risk for your items and doing the work to sell them
Final thoughts: The best apps to sell clothes online
No matter what app or website you pick to sell your clothes on, I'm sure that you'll get some great results. It's more work to sell your clothes yourself than to head to a consignment shop. But you'll get paid more at the end of the deal.
Keep in mind that I think these are the best apps to sell clothes online, but there are lots more that you can use. If you have any luxury items or expensive sneakers or specialty items, there are marketplaces that will help you sell those things more efficiently. I tried to focus on the best apps for selling normal, everyday clothing.
You'll want to stock up on some basic supplies for selling clothes online, like polymailers to ship things in.
You'll also want access to a printer so you can print shipping labels for your packages. Here are the two printers I recommend for printing shipping labels, depending on your situation. (You can save money by getting a thermal printer or a laser printer over using an InkJet because of how much ink they use.)
Good luck selling your stuff and let me know in the comments if you have a question about any of these apps!
Want to save this for later? Pin it!