Hey, glad you're here! Here are my intermediate Poshmark tips for you. Once you've gotten a grasp on the basics there are quite a few other things that you can do to get more sales on Poshmark. If you missed it, here are my beginner Poshmark tips.
Affiliate Disclaimer: Some of the links in this post and other posts on my site are affiliate links, which means that I will get a small percentage of purchases you make through those links. As an Amazon affiliate, I earn from qualifying purchases. Check out my whole (super boring) affiliate disclaimer right here.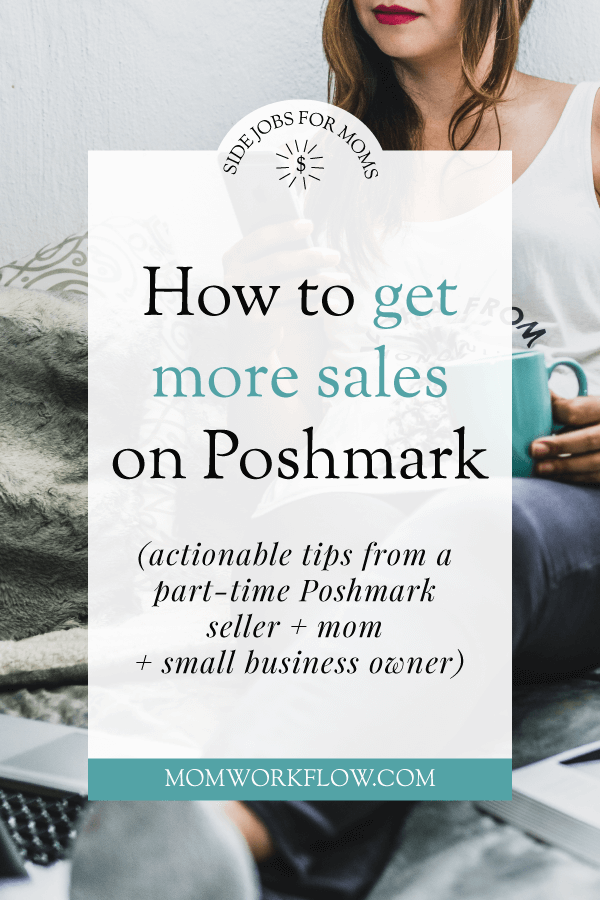 1. Taking advantage of "closet clear out".
This event happens every couple of weeks and in my experience and you can rack up a lot more sales if you use this tactic strategically. Basically, you have to discount an item in your closet by at least 10% and anyone who has "liked" that item will receive a notification saying that the price has dropped. They'll also get discounted shipping if they buy it within an hour. This creates urgency and the buyer is a lot more likely to actually purchase the item.
The trick to using this tip is to make sure you are doing these price drops at the right times. You don't generally want to do this during the week or during the day, you want to do them during the evening, on weekends. Think Friday and Saturday nights around 6 or 7 PM. You can also do these a little bit earlier on a Sunday – I've heard Sundays work well for this. Try 2-4PM on a Sunday.
If you do price drops during the weekdays while people at work or school, they're a lot less likely to see the notifications in time to get the discounted shipping and you will have dropped your item price for no reason.
You won't sell every item you do strategic price drops on, but you'll sell more than you would if you ignored Closet Clear Out when it pops up. Take advantage of it!
2. Pay attention to your packaging, but don't get crazy.
Focus on getting a ton of 5-star ratings while you're building up your closet. The more you have, the easier it will be for people to buy from you. One of the easiest ways to do this is through your packaging. Make it cute, but keep it simple. You don't want to eat up your profits with fancy wrapping paper or spend a ridiculous amount of time packaging orders.
Get some tissue paper and make sure that your item is securely packaged. That's all you really need to do!
The most effective "extra" that you can include in your package is a handwritten thank-you note. This communicates to the buyer that you genuinely care about their buying experience. It also gives you a chance to up-sell your closet. Try including an offer for them to take 20% off the next item they buy in your closet, and they'll probably keep you in mind next time they shop on Poshmark.
I get my thank-you notes from the Target Dollar Spot, usually when they're on clearance. I simply write something along the lines of:
"Hey, (buyer name)!

Thank you so much for your purchase!

I hope you enjoy this (brand name, item)

Mention this note for 20% any item in my closet next time you shop!"
If the buyer and I exchanged any kind of conversation before or after they purchased the item, I might write more if I have something to add. But that's it! A little extra effort goes a long way.
3. Follow people who are your size and like similar brands
Especially if you carry niche brands in your closet, follow people who follow those brands! Some brands have powerful followings. A lot of times these people are collecting items that are made by that particular brand.
Poshmark is one of a few places that the buyer can find specific items that they might be looking to collect. Even if they're not necessarily designer items, they're just a specific brand or style. Find the people who are looking for the "collectible" brands that you carry and follow them.
Also, follow people that are the sizes you carry. This is extremely helpful because, again, these people are a lot more likely to buy items from your closet if they're looking for the sizes you have. For example, if you have a lot of plus size items in your Poshmark closet, don't start following random people.
You are unlikely to follow a large percentage of plus size users that way. Search specifically for people who have their size listed as plus size and follow those people to get more sales on Poshmark.
4. Start getting crazy with your pictures and focus on your cover photo.
Take flat lays, gather props, or use flowers. You will get more sales on Poshmark if you have clean, aesthetically pleasing pictures on Poshmark. Find a blogger or designer whose aesthetic you admire and channel them when taking cover images for your listings.
Poshmark is a visual platform and has many similarities to Instagram. People are scrolling through the feed or searching a particular brand or style and they will look at your item based mostly off of the cover photo. So, make sure that at least your cover photo is clean, clear, and well-styled. The rest of your photos just need to accurately show what your item looks like. You honestly don't need to worry about styling these unless you want to.
5. If you're a full-time reseller: get more sales on Poshmark by paying close attention to showrooms.
One of the most valuable things you can spend your time doing on Poshmark is keeping up with Poshmark showrooms. Source some of your inventory specifically for these showrooms – these are top items on Posh that sell quickly. Just make sure that you include the keywords in these listings. You don't share your items to showrooms, they will automatically appear in there if the listings include the exact keywords in the names of the showrooms.
For instance, if your item is a J.Crew puffer vest, make sure that you put those exact words into your listing title and description.
It works and these items sell. There is a set number of these showrooms each day – keep track of them and source items for them when possible. I wouldn't recommend trying to exclusively sell showroom items, but you can definitely boost your sales by being on the lookout for the items that are featured in them regularly. They are heavily featured in the app, so shoppers are more likely to see these items than regular ones. Having some of your items in showrooms will also drive traffic to the rest of your closet.
6. Follow up with private discounts for people who show interest in your items.
When somebody bundles an item (or items) make sure to send them an offer immediately even if it's just a couple dollars off. They're in the mood to buy it then and there; 20 minutes later they might have gone to work or had an argument with their spouse or any number of things.
Send them an offer while they're in shopping mode: make more sales on Poshmark by making sure you follow up on any bundles with a private offer even if it's only a small discount. They're more likely to buy if you follow up with an offer right away rather than waiting.
Since this feature came into play, I usually recommend that sellers lower the automatic bundle discount in their closet. Many buyers expect to be offered a lower price on bundles through this feature. Poshmark advises sellers to list their items at least 40-50% off the original retail price. So if you have a 15% discount automatically applied to your item that is 50% off and the buyer expects you to throw in free shipping or $5-10 off on top of that, your profits will be eaten up quickly.
Reduce your default bundle discount to 5% if you want to keep one. This way, you can afford to send more private offers should you choose to.
7. Follow other resellers or Poshmark sellers on Instagram. And YouTube.
One of the best ways that you can find high-quality Poshmark tips and learn more about brands to source for Poshmark is by getting advice from other Poshers. There are quite a few extremely helpful Instagrammers and YouTubers who share their daily experiences as a Poshmark seller and share valuable information that you can learn from tremendously.
Here are some great Poshmark YouTubers to follow:
These ladies all know what they're doing and have some great content. They share bands and styles that sell well, various Poshmark tips and tricks, and what to do in specific instances that aren't ideal; like when a return case is opened against you. If you've seen someone else handle it before it happens to you, you'll feel a lot more confident in dealing with the same situation yourself.
8. Research the sold listings religiously
It can be helpful to browse through current Posh listings, but it's more important to check what items are selling for and how often they are selling. Especially if you're someone who sells on multiple platforms, you'll want to make sure that it makes sense to be listing your item on Poshmark. If it's the wrong brand or style and is rarely sold on Posh, you may be wasting your time by listing it there. It might do better on another Platform. This brings me to the last point, which is…
9. To get more Poshmark sales, get to know what sells best on Posh and what works better on other platforms, like eBay
If you sell on other platforms, make sure you know what to list on Poshmark and what you shouldn't bother with listing there. This will save you hours of fruitless efforts. If you want to get more sales on Poshmark, you have to list only the items that make sense there! Crossposting makes sense for many items, but not all of them. Do your research. Future you will thank current you for putting in the effort to know your craft and understand what works best for each platform you sell on.
10. Share from your computer, not your phone
Sharing your closet and other people's listings takes way too long, in my opinion. There's no mass-share option, unfortunately. Sharing is a lot quicker from a computer than it is on your phone. So hop on your laptop or desktop to get your sharing done for the day. You'll be finished in half the time
Getting more Poshmark sales is a matter of getting to know the app, the website, and the brands that sell well on Poshmark. Knowing how to use the different in-app events will work to your advantage and get you more Poshmark sales as well. Events like "closet clear out" allow you to drop prices and automatically notify everyone who has ever liked your item. I've had tremendous luck by jumping on during a closet clear out event and dropping prices just a little to make several quick sales.
Are you a seasoned Posh seller? What are your best tips for getting more Poshmark sales? Drop your tips in the comments to share, I'd love to hear what's worked best for you!
Related reading: