Thinking of selling on Poshmark but doing some research before moving forward? Good for you!
I've had a great experience selling on Poshmark and have lots of Poshmark selling tips out there for you if you're interested in that, but let's talk about how to get your money after selling on Poshmark. It's super simple and I'll just show you how it works.
Here are the steps:
Make a sale and ship the item.
Wait for the customer to review their purchase OR for three days after delivery, whichever happens first.
Redeem your money from your Poshmark account. You can get a check mailed or direct deposit.
Step 1: Make a Sale
Bit easier said than done but once you make a sale, ship the item to the customer quickly to get your money faster. You'll get access to the cash from anything sold on Poshmark after the customer receives their item. The customer pays as soon as they order from you, so you don't have to worry about getting scammed.
The only way that you won't get that money is if you end up having to issue them a refund if the customer isn't happy with the item. Poshmark has some pretty great seller protection rules, so as long as you've accurately described and photographed the item, you should be good in terms of returns. Buyers can't start a return for no good reason.
Step 2: Wait for the customer to review the item or for 3 days to pass after the order has been delivered
Your money from Poshmark sales becomes redeemable after your customer reviews the item you sold them. If they take longer than three days, the money will automatically be eligible for you to redeem. That's it! Not bad at all.
Step 3: Redeem your money in the Poshmark app
Head into your Poshmark app to redeem your money from any sales you make on Poshmark. You can request a check for the money you're owed or you can choose to set up direct deposit with your bank account.
I do direct deposit and it's super simple to cash out.
Here's exactly where to go to get your money from Poshmark sales.
Open the app and look for your user profile in the bottom right corner of the screen. Tap the profile icon.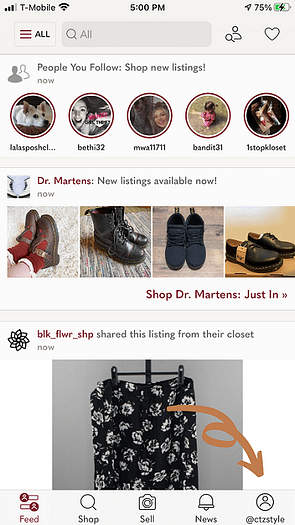 Now, you'll see your profile settings. Look for the money symbol at the top right of the screen and hit that button.
Next, you'll see information about your current redeemable funds as well as past redemptions and ways to request your money. From here, you can request a payout directly to your bank account or as a check. Depending on your bank, payouts process within a couple of days. Super easy!
Do you have any questions about how to get your money after making sales on Poshmark?
Let me know in the comments! Poshmark is such a simple way to sell clothes without having to meet up with random people or put yourself in potential danger. They do take a bit more in fees (20%) compared to other platforms (Mercari, eBay) but I think that their simpler process makes it worth that fee. I find that you can sell the right things for a higher price on Poshmark anyway, making that higher fee negligible.
Here's a few links to some of my other posts about selling on Poshmark: