As a work at home mom with a 10-month-old, I go through a lot to make sure I'm productive more days than not. Of course, this means that I wake up a lot earlier than I used to and I often end up going to bed later than I should. But there are a few things I've found that help me get more done during the day.
One of them is allowing my daughter to play (semi) independently, within my line of sight. I do a lot of one-on-one time with her because and the majority of my work gets done during naptime and in the early AM when she's still asleep. Still, there always seems to be something that slips through the cracks. And sometimes, with a deadline quickly approaching, I just want to get the work done now. Sound familiar?
Affiliate Disclaimer: Some of the links in this post and other posts on my site are affiliate links, which means that I will get a small percentage of purchases you make through those links. As an Amazon affiliate, I earn from qualifying purchases. Check out my whole (super boring) affiliate disclaimer right here.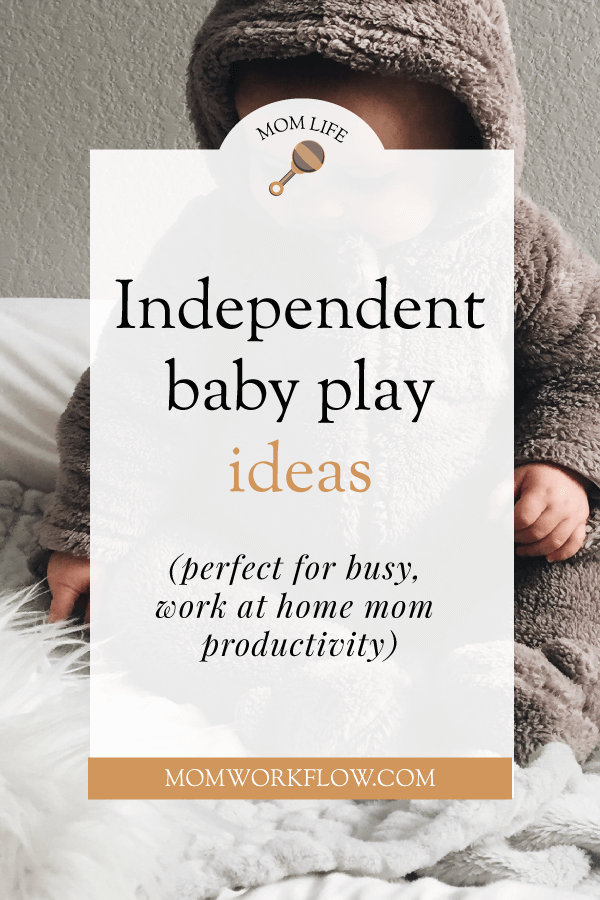 Playing is a big part of a baby's development and finding new things for your baby to play with will help him or her learn and grow. Finding new toys for your baby doesn't always mean that you have to go out and buy stuff, though!
Here are some common household items that you can give to your baby to play with! Part of work at home mom survival is finding realistic and affordable ways to entertain your kids. What's more frugal than free?
Wooden spoons and spatulas
Babies love utensils. If you have any long ones made of a gentle material like wood or silicone, offer them to your baby and show him how to bang them together. Set her up with her own drum kit by giving her a few pots to bang on with her spoons.
Strainers are visually interesting to babies and yours might enjoy playing with one. Try tying pieces of ribbon to the holes – your baby will love tugging on them.
Pots are fun toys that are even more fun when paired with other items on this list. Place other toys inside the pot, let your baby explore water play activities with it, or give her the lid to bang around with the pot. Noisy? Yes. Fun? Absolutely.
If you are having your baby do any kind of water play activity, give him some measuring cups or big plastic cups to use. Show your baby how to scoop up water and dump it out. So fun! Of course, cups are also fun by themselves and make a bunch of noise when hit together.
You can put so many fun things into muffin tins. Try putting toys with different textures into the compartments.
A tray of water with toys
The other day, I sat my kid down with a tray of water, a couple of bath toys, a washcloth, and some cups. She was playing happily for twenty-five minutes before she was ready to move on to something else.
If you don't have an ice tray, grab one at the dollar store or at the clearance section in Target next time you're there. Put toys or snacks in the compartments. I love using ice trays for mealtimes with my baby – try putting different types of vegetables and fruits in the sections and let your baby play and eat.
Some kind of DIY shape sorter

Wax paper
Wax paper has such a unique texture and babies love to play with it! Try giving your baby a few pieces to see what she thinks.
Shoes they haven't worn yet: Bonus points if there is velcro
My kid is obsessed with shoes. Not wearing them – playing with them. There are some strappy sneakers she has that are a few sizes too big for her and she loves them so much that they're in her regular toy rotation.
An obvious one, but the list would be incomplete without it!
Any scrap cloth that you have on-hand will make a great toy for baby. If your little one is enjoying feeling different shapes and textures, this is such a fun way for them to get in some sensory play.
Use egg cartons similarly to ice trays or muffin tins. Check out this smart idea from Pink Oatmeal – she hot glues different objects to the bottom of each compartment to create a fun sensory play toy perfect for babies.
Here's another simple option for babies who are loving texture right now. Just place the yoga mat on the floor with some toys and let your baby scratch it, feel it, and play on the mat. If you have a mat with some kind of pattern on it, that's even better than a solid yoga mat. Yoga blocks are fun too!
What's more fun than a box? If you have a huge box sitting around that you can cut shapes out of and make into a playhouse – do that! If you haven't made any large purchases recently, you probably have a diaper box somewhere. Let your baby play in it or set it out for him and encourage him to use it to help him stand.
Have you tried all of these independent baby play ideas with your child? Which one is the biggest hit? Remember that it's completely normal for your baby to lose interest after a few minutes and move onto the next toy. Babies have short attention spans.
Having more than one of these common household items available throughout the day and rotating them out can sometimes entertain a baby for long enough for you to finish that blog post, design that graphic, or get those dishes done.
Sometimes my daughter LOVES everything I give her to play with that day. Sometimes, I have to cycle through a few options before she's interested in playing with one. It just depends on the day! Try not to get discouraged if your baby doesn't take to a toy right away.
Common household items can work just as well for baby play as expensive baby toys. I love how much we save by letting our baby play with the items we already have in our home! I feel like we buy her a new toy every month or so, but there are so many free or cheap baby play ideas that we barely have enough time to explore all of them.
Pin me for later!