Okay, so you need another income source ASAP. How about learning how to sell clothes online? A couple of years ago, I really needed another stream of income. When I say really needed… It was bad. Bills were paid, but we were eating ramen and unable to save a dime. The problem was, I couldn't leave the house very often (we were a one-car family at the time) and I didn't have a lot of start-up cash.
Reselling clothes online has been a hugely helpful side job – I've been able to pull in an extra few hundred (and even up to a couple thousand) each month. I average 2-3 big thrift store trips each month and list items 3-4 days of the week for a couple hours each day.
For the sake of making this post as helpful and concise as possible, let's get straight to it! We have a lot of ground to cover.
Affiliate Disclaimer: Some of the links in this post and other posts on my site are affiliate links, which means that I will get a small percentage of purchases you make through those links. As an Amazon affiliate, I earn from qualifying purchases. Check out my whole (super boring) affiliate disclaimer right here.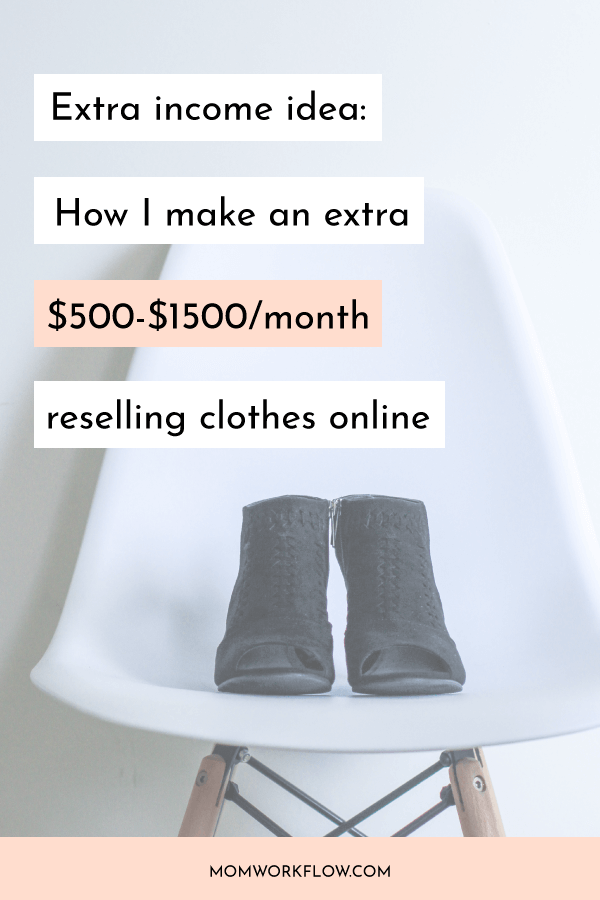 Is this a good fit for you?
What are your current supplementary income needs? $200 a month? $2000 a month?
Selling clothes online can get you to either of those numbers, but reaching more than $1k a month will take you some time. You can reasonably expect to earn an extra $500 a month part-time within a couple months if you give this enough attention and you put in enough work. You can scale up from there – some people actually make a full-time living reselling clothing.
I just want to point out that you should expect to earn a few hundred at first, not a few thousand. Just like any job, it will take you a while to master each part of the process and become efficient at the job.
Also, consider whether or not working with clothes every day will drive you crazy. I actually used to work at a thrift store. Working with clothes gets a little repetitive for me, but I enjoy the job as a whole. Will you be ok with combing through thrift stores several times a month? Are you willing to do some research and figure out which brands and items sell the best for you? Will you have the patience to whip out your phone in the middle of a store to check the profit margin on an item you're looking at? Will you photograph and list each item you bring home (rather than letting them stack up and form a "death pile")? If so, this will probably work for you!
How to sell clothes online: A few prerequisites
You're going to need a few things before we begin:
A smartphone

A computer (preferably but not a deal-breaker)

Working knowledge of current clothing styles and popular brands or a willingness to learn about them

Some clothing items from your own closet to photograph and list
I would highly recommend that you begin this process by listing some of your own items (stuff you no longer wear) before heading to the thrift store and investing in inventory. Doing this will help you decide if reselling is something that will work for you. Keep in mind that your first few sales will likely be the most difficult if you've never done this before. You'll become more efficient at listing and selling items the longer you stay in the reselling business. Expect to streamline your listing process within a few months of regular reselling.
If you feel like you're ready to dive in and grab some inventory to sell, just move onto the next section.
Go into your closet and pull out several things you no longer wear or have never worn. You'll want to be able to sell these items quickly for the best results.
Please be honest with yourself – if the item is visibly worn or has some kind of defect, save yourself the effort. The truth is that there is so much fashion available online for people to buy, they will probably not buy your damaged item unless it's a specific designer, brand, or item that they're looking for. Some full-time resellers regularly sell damaged items because they have a larger reach and available customer base. We're trying to get you up and running as quickly as possible here, so avoid any items with snags, stains, or outdated style.
A short note on outdated styles: It always feels snobby to instruct people not to bother with older styles. I promise it's all well-intended and meant to save you time. You can sell almost anything, but unless you are focusing on vintage items, it will be so much easier for you to sell popular styles and wardrobe classics. I personally have tons of items in my personal wardrobe that aren't in line with current trends, but I wouldn't try to resell these unless I had nothing left to list. Stick to finding and selling current styles and popular brands, in the beginning, to get the most out of your time.
Look over the items you choose carefully. Don't forget to check your shoe collection!
Check the armpits and seams for any holes

Look at the item under a bright light for stains

Make sure there isn't any pilling

See that there aren't any missing brand/size tags (You can definitely sell things without tags, but it makes everything simpler if the tags are in place)

On shoes, check the soles for separation and check for marks, scuffs, and signs of wear
When you have 10-20 items pulled and inspected that you believe will sell, you're ready to start photographing and listing them
How to photograph clothing to resell online
The good news – you do not need a fancy camera. If you have a DSLR, I'd actually recommend that you don't use it unless your phone is having technical issues. Just use your smartphone camera! The photo quality will generally be more than sufficient and using your phone will streamline the listing process. You'll probably list from your phone quite often, so having the photos ready to go on the same device will make your life that much easier.
What you do need is an area with great lighting. If you haven't experimented with photography before, this can be hard to get the hang of. You'll want lots of natural light, preferably. If you are only able to dedicate time to reselling when the sun goes down, you can get a cheap lighting kit to use instead. I'll make a recommendation for you later in this post when we talk about supplies!
How to photograph clothes using natural lighting
To make things easier on yourself, find a plain wall in a room with several windows to start off with. You can get creative with your photography process later on by adding backdrops and doing flatlays with props, but let's start simply – this will work for now.
Put your first item on a plain hanger and hang it on the wall using a command hook, a nail, a thumbtack, or whatever you have on-hand.

Back up and take a shot of the entire front of the item, keeping the whole piece within the frame of the photo.

Then, take a shot of the brand label tag. Be sure that the words are in focus.

Take several close-up shots of any details or embellishments on the item.

Finally, flip the item around and take a shot of the entire back of the item.

If there are any details on the back, take close-ups.
I like to take a shot of the sleeves/cuffs of items, particularly long-sleeved items like sweatshirts, hoodies, sweaters, and jackets. Just to show that they are stain-free and neat.
The more pictures you can take, the better. Most selling platforms will allow you to use between 5-12 photos per item. The more photos you take and use in your listings, the more confident a buyer will be that your item is truly in the condition you describe it as. You'll also have to answer fewer questions about your item since everyone will be able to see it from every angle.
Clothing photography with a lighting set
While you should be using natural lighting if, at all possible, you can still get great photos with a lighting set. Lighting kits are a great solution for anyone who doesn't have a lot of windows or who can only work at night. (That's me, by the way!) 
You'll want to take the same shots listed above, but there are a few things to note before shooting with a lighting kit.
You won't need a super-expensive kit. A set with two umbrella or box lights will do the trick. This one from Amazon is what I use. I've had it for about two years now, it's pretty inexpensive, and it folds up easily for storage.
Experiment with moving the lights around to see which arrangement gives you the best-lit photos.
Editing your photos
You don't NEED to edit your photos, but if you are looking to beautify them a little, consider using an app that will allow you to brighten the background. Obviously, you do not want to edit the photos so much that that clothing item looks distorted or discolored.
One of my favorite apps for quick clothing photo edits is called "Pic Tap Go" and it's available for iPhone users. There are a couple of simple filters I use to brighten the background of each image and give it a super clean vibe before posting. The filters are called "Brightside" and ". Pic Tap Go is $2.99 in the App Store and I've found it more than worth it.
Writing descriptions and listing items
The listing process is a little different for each reselling platform, but there are a few things you'll want to aim for regardless of the website or app you use.
First, use descriptive words in your listing titles and descriptions, but try not to add opinion-based words. Call the top "Floral lace cap-sleeved peplum top" instead of "Fun, pretty blouse". In the description, give sizing information and add more specific, descriptive words. Using words like "beautiful," "cute," and "nice" don't work well in online clothing resale because they aren't specific enough. Rarely is anyone going to pull up eBay and type in "beautiful top." Instead, they're going to search for "structured black blazer" or "flowy linen midi dress."
When in doubt, locate the original item online and see if you can find a product description. If the item you have was recently sold in stores, you'll find a lot of usable information on that store's website. If that's not the case, check the care tag for the fabric content, get to know fashion jargon and use it in your descriptions, and see if you can find the item listed online for resale.
Next, be very honest about the condition of the items you're listing. If there are any flaws, point them out. In many cases, a customer will want your item even with minor flaws. They might be a collector of the clothing brand or just someone who really fell in love with your item. Maybe they've bought that pair of jeans before and they love them so much that they don't care if one of the back pocket buttons are missing. When you're honest about the condition, customers are much less likely to be able to file a complaint against you or argue that you didn't disclose the condition of the item correctly. Disclosing your item's condition in your description is the best way to protect yourself against excessive returns and bad reviews.
Apps + websites to use
There are so many ways to sell your clothes online. Almost too many ways. I recommend eBay and Poshmark above the other options, but I've included more apps here and I've tried most of them out.
eBay
People always seem to be surprised that eBay is doing so well because it's been around for so long. But, it's still doing great and its user base is growing constantly. eBay is doing a great job of keeping up with the modern consumer – take a look at its homepage. Does it look outdated to you?
Anyway, eBay is still a monster when it comes to reselling clothes online. They have, by far, the biggest group of buyers looking for used clothing online. There are a few things that make starting up an eBay store a little annoying, but after a while, you will be so glad you pushed through and did it. The demographic on eBay tends to be a little older than the customers on Poshmark and Mercari. If you like shopping for more classic, mature brands, then you might enjoy selling on eBay. That being said, ultra-popular brands for a younger demographic do well here also. I've sold a lot of Free People on eBay, for example.
Poshmark
Poshmark is a newer platform that is a lot easier to get started on, but you won't reach as many people. Still, Poshmark is a powerful reselling platform and I'd highly recommend selling there. I get about 40% of my total sales on Poshmark, which makes it worth it for me. Poshmark takes 20% of your total item sale price as a fee. You may consider this steep, but they also take care of shipping for you. On eBay, lots of sellers end up offering free shipping for their items and paying for shipping out of pocket. On Poshmark, shipping is paid for by the buyer every time and you're emailed a pre-paid shipping label after each sale. So easy. Poshmark customer support is also pretty dang good, in my experience. Here's my intro to selling on Poshmark, which is perfect for resellers getting started on the platform.
Once you've got your items listed on Poshmark, there's a lot more to learn. Over time, I've learned about some helpful strategies to use on Poshmark to make more sales and get my items in front of more people.
Mercari
Mercari is super-popular but it functions differently than eBay or Poshmark. I haven't mastered this platform. I found their listing process to be incredibly simple, but to get views on your items you need to be deleting them and re-uploading them more often than I cared to do. I've made sales on the platform, but I found the payment process more tedious than on other platforms – the buyer has to log into the app and rate their purchase experience in order for your funds to be released. There are tons of people who have success selling on Mercari, however. It's just not something I'm going to cover in this post! Maybe I'll write a post about Mercari in the future.
Vinted
This app is one that I personally use on occasion, but it accounts for less than 10% of my sales. The user base is small compared to that of eBay, Poshmark, and Mercari. However, top sellers on Vinted make a substantial number of sales – it may be worth downloading the app and seeing what you can do with it. Vinted allows 5 photos per listing and I like their listing and selling process – it's so easy to deal with and isn't a huge time-sink.
Etsy (Vintage and handmade items only)
This is outside the scope of this post because I've only bought a few vintage pieces to sell. It's not my area of expertise, but if you are interested in selling vintage clothing, try listing on Etsy. Here's a great article that highlights the differences between selling clothes on eBay and selling them on Etsy. Alternatively, here's a YouTube video that talks about selling vintage clothing on Etsy. To qualify as vintage, clothes must be 20+ years old.
Grailed
This is a niche men's platform for high-end merchandise. Stuff like Supreme, Louis Vuitton, and other designer clothing and accessories. Resale options specifically targeting men are hard to find, so I included it on the list in case you're looking for something like this.
Depop
Another selling app catering mostly toward women. Depop is quite popular, but it didn't convert as well as Poshmark did for me. Plenty of resellers use Depop to crosspost their items on, though! Try it out and see if it works for you.
Where to source clothes to resell
Once you've listed stuff you already had on hand and decided this might actually work for you, it's time to hit the thrift store.  Do a quick search for stores in your area and don't forget about these thrift/resale classics:
Goodwill
Salvation Army
Plato's Closet
Once Upon a Child
Style Encore
ARC Thrift
Value Village
You'll probably have a few independently-owned thrift stores around you as well. Try to find them! Yelp is great for finding these and feeling out which ones you want to visit.
Sign up for email and text lists for each store that you plan to frequent (you can always unsubscribe later). You'll get notifications about sales and events going on at the stores, which will help keep your inventory costs down. Goodwill often has 50% off sales, as does Salvation Army. Plato's Closet sales go as low as 90% off, which is wild. I've scored majorly at Plato's during sales. Several times, I've bought dresses there for under $2 and sold them for upwards of $50-$70. These were $200 dresses in new condition, so the buyer got a pretty good deal as well!
Rounding up
Learning how to sell clothes online is a creative way to add another income stream for your family. It's also a great way to generate cash for a vacation, extra savings, or to start a business. Whatever platform you choose to sell on – do your research! Read articles about that platform's specifics and learn about strategies to use on the platform. Read about the top clothing brands to sell online. Some brands are much more valuable/in-demand than others.
In the beginning, you might be slow at photographing and measuring clothes. Don't beat yourself up about this! You'll get better as you gain experience, believe me. Everything will start running a lot more smoothly once you've been reselling clothes for a few months.
Do you have any questions about reselling clothes? Leave them in the comments below and I'll get back to you. Thanks for reading and good luck at the thrift store!