Ready to learn how to start selling on Poshmark? Here are 9 of my best, quick beginner tips for Poshmark sellers.
I earn a pretty steady part-time income by selling on Poshmark. I list items for a few hours, two days of the week. Once or twice a month, I go out to a few local thrift stores to buy some inventory. Learning how to sell clothes on Poshmark is an amazing way to create another stream of income for your family. It's made such a difference for me to have a few hundred extra dollars each month.
Affiliate Disclaimer: Some of the links in this post and other posts on my site are affiliate links, which means that I will get a small percentage of purchases you make through those links. As an Amazon affiliate, I earn from qualifying purchases. Check out my whole (super boring) affiliate disclaimer right here.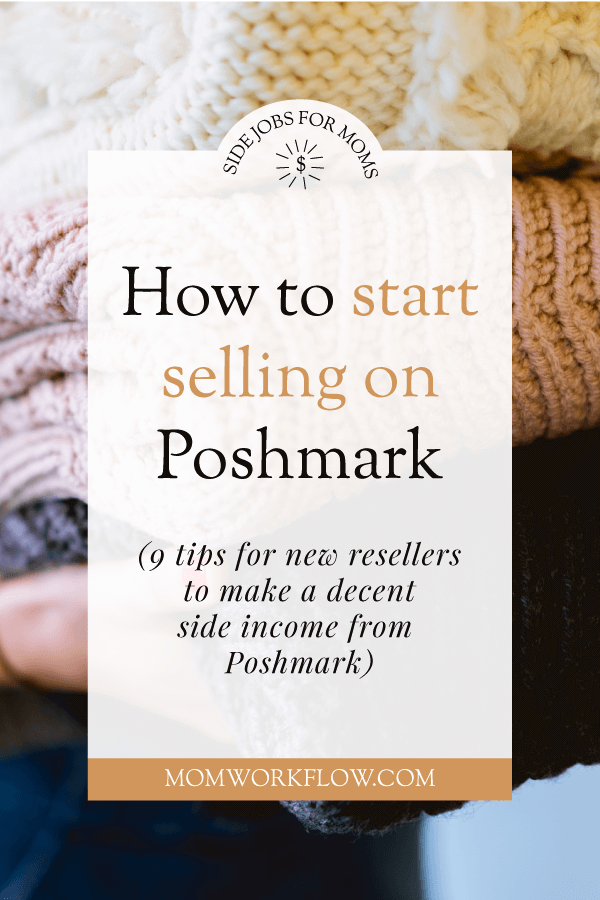 1.) Take your pictures in natural light or use a lighting set. Use a solid white background or a backdrop to photograph your items
The #1 thing you can do right now to get more Poshmark sales is to make sure you're taking clear, well-lit photos with a background that doesn't take away from your image. Do not underestimate the power of light and clarity! You'll sell clothes a lot quicker if your images make it easy to view the features of an item and represent the colors accurately.
If you take the time to use good lighting and a good-quality background, you'll have better pictures than half of Poshmark already. Many Poshers take pictures at night, with nothing but their bedroom lights, resulting in grainy images. Or, they lay items out on a busy background that detracts from the photo, such as a patterned blanket on their bed.
If you were wondering, you absolutely do not need a professional camera to take pictures for Poshmark. In fact, I recommend that you don't use one.
Just use your phone camera! That way you can upload pictures straight to Poshmark without having to transfer files from one device to another. If you're going to make any investment in the quality of your listing photos, I recommend grabbing a low-cost lighting kit from Amazon and using that to get crisp, bright photos. You'll use this a lot, especially if you live somewhere not-so-sunny. (I'm in Houston and we get a lot of rain!)
Related: Full List of Suggested Supplies for Poshmark Sellers
2.) Be honest with yourself – don't waste time listing things that won't sell. You will get more out of Poshmark if your closet is full of clean, cute items in great condition
Do not post stained up or beat up pieces of clothing on Poshmark. They will not sell, and you will have wasted your time photographing them, creating descriptions, listing them, and sharing them.
Focus your time and energy on the great stuff you have that you know someone would love to have in their closet.
3.) Draw attention to any imperfections on your items
If you have a cute or trending item that happens to have a small flaw, but you know someone will love it anyway, make sure potential buyers are aware of any flaws your item has. When you highlight the fact that your item has a flaw, you are establishing yourself as an honest seller to anyone who views your listing.
Take a clear picture of the flaw, however small, and include it in your listing. In the description, let the buyer know that the item has an imperfection, and let them know what picture they can see the flaw in.
When someone makes an offer on an item I have listed that has a small tear or hole, I will usually confirm with them that they've seen the photos of the item's imperfection before accepting the offer.
4.) Share other people's stuff (but don't forget to share your own)
The more you share, the more shares (and exposure) you will receive! But share your items frequently – especially during parties!
5.) Source items from popular Poshmark brands
Make sure the brands you're listing on Posh are ones that will probably sell. You can do your own research on this by searching Poshmark's sold listings, or do some research on YouTube to see what other Poshmark sellers are having luck with! There are so many super generous Poshmark Youtubers who go through their weekly/monthly sales with their viewers and talk about what's been working best for them.
6.) Save money on shipping products by buying in bulk
You'll save money if you order your shipping products in bulk. Things like tape, thank-you cards, poly mailers, bubble wrap – order it on eBay or Amazon! Don't waste money going to Office Depot or even Walmart and buying one or two mailers or rolls of tape at a time. If you can afford to buy larger quantities at a time, do it. And don't forget, of course, to get your free priority mail boxes delivered from USPS.com
7.) If someone bundles an item, send them a private offer as quickly as possible
If someone bundles your item, they may have done it by accident – but there's a good chance that they are seriously interested in that item! Send them a private offer as soon as you see the notification. Hook them in while they are in shopping mode! Don't wait for them to close Poshmark and go about their day.
About a third of the time, I get a sale by using this tip and offering a few dollars off.
8.) If someone comments a question about your item, reply back ASAP
If someone is interested enough to ask a question about your dress or top, they're interested enough to be a customer. Reply to their question ASAP instead of putting it off. You're a lot more likely to keep them interested and make a sale if you get back to them while they're in the mood to shop.
9.) Follow as many closets as you can every time you open the app
Do this. Really. Hit "Feed" and scroll down until you see "Follow more people to grow your shopping network". Then follow all of the suggested users there. Scroll back up and hit "New People" and follow a bunch of them. Then go back and hit "Brands". Find a brand that you have a lot of in your closet and follow as many people as you can stand in one sitting.
Do this regularly. Every day that you log into the app, if you can! People will follow you back and you'll build up a following of people who have your items in their feed when they open their app. Poshmark isn't like Instagram – it's a lot easier to gain followers and users typically follow back. The more followers you have, the more sales you'll get. And the best way to get followers is by following other people.
If you've made it through this, thanks for reading! Do you have any questions for me about selling on Poshmark? Let me help make this work for you!
Related reading:
---
Pin me for later!