Here's a quick roundup of supplies for selling on Poshmark. I'm going to list several options for a couple different budgets and you'll find totals at the bottom of the page – I hope you find some info here that helps you!
Affiliate Disclaimer: Some of the links in this post and other posts on my site are affiliate links, which means that I will get a small percentage of purchases you make through those links. As an Amazon affiliate, I earn from qualifying purchases. Check out my whole (super boring) affiliate disclaimer right here.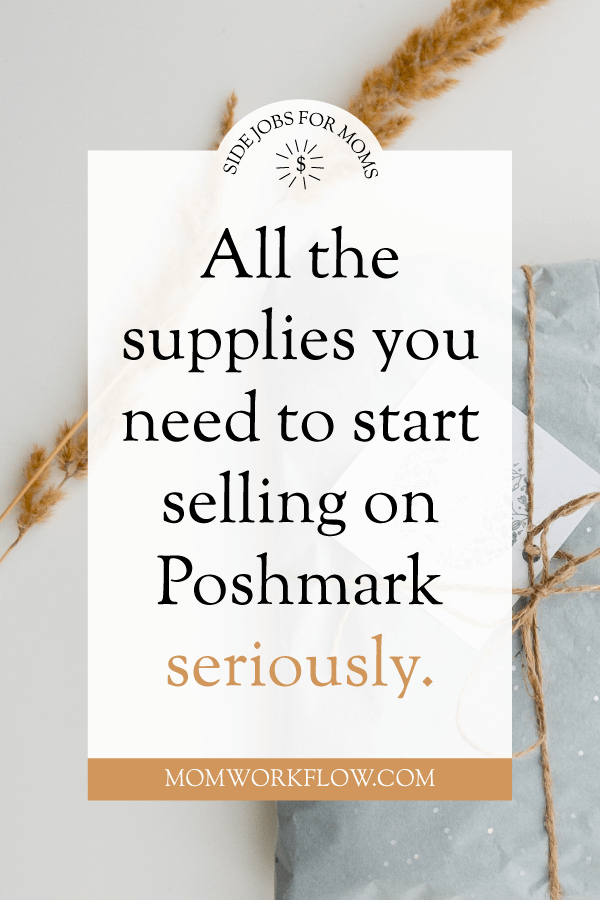 Once you have a solid idea of how selling on Poshmark works, you've made a few sales, and you've defined your goals it's time to invest in some equipment to take your Poshmark business to the next level!
This isn't EVERYTHING I'd recommend to have on hand if you have a full-time income selling on Poshmark or other applications, but it's what I'd recommend starting with if you're serious about making a hefty side income and working toward making it a full-time gig. If you missed it, here's my little guide on how to start on Poshmark.
If you've made 10+ sales and you're ready to scale this thing and run with it, read on. This is the set of tools to take professional photos and securely pack and ship products to my customers. Some of these items you probably have laying around already. Some you probably don't! Let's get started.
1.) Clear poly bags
This is one of the very first things you'll want to grab when you're ready to add a touch of professionalism to your business. They make for a clean presentation – and more importantly – clear poly bags protect the item you're shipping from the elements. While the free USPS boxes you can get from your post office provide a basic degree of protection, they are just boxes.
Boxes are especially prone to water damage. If you protect your items with poly bags, you will not experience customer complaints about items you've shipped becoming damaged by the elements. Try this combo pack with 4 different sizes to get you started. It's a lot more convenient than buying each size separately. Also, if this selling online thing ends up not being your style, you're not out as much money
2.) Lots of shipping tape
You'll go through a lot of this. An impossible amount. Save money by buying in bulk and make sure to stock up on a good brand, like Scotch. Brands don't matter for supplies in many cases, but with shipping tape and cleaning supplies, you should get proven brands. I learned this lesson the hard way when I bought generic shipping tape and it shredded easily when I tried to use it. I didn't even want to think about sending packages out with that tape on it! Returns waiting to happen, sadly.
3.) A good, cost-effective lighting set
No need to get crazy and buy something with all the bells and whistles! A simple lighting set will take you far and improve the quality of your photos significantly in many situations. If you're able to take photos in an area that is consistently well-lit by daylight, you won't need to use a lighting kit. But if the area you live in has a lot of cloudy or rainy weather or if you're generally unable to take photos for Poshmark during the day, you'll definitely need this to take anything worth posting at all. Out of all the Poshmark supply investments I've made, this one has made the most difference in terms of my sales.
This kit is a great price. It's lightweight and can easily be folded up and stored in a closet with the rest of your Poshmark supplies. It comes with two umbrellas which is exactly what you need to photograph clothing. I love my lighting kit and I was honestly surprised at how high-quality it is. I use it at least 4-5 times a week, due to overcast weather in the Houston area.
4.) Some kind of thank you note or sticker
You don't have to do this, it's just a suggestion that a lot of top Poshmark sellers take advantage of! I'd recommend starting out with handwritten notes. In the beginning, it's especially important to get glowing reviews from your customers. You can get creative and personalize your notes as much as you like.
Address the customer by their name, comment on the item they purchased, or whatever comes naturally for you and fits with the vibe of your business. I started out by purchasing several packs of thank-you cards that were on clearance in my local Target's $3 spot and then I eventually created my own to print off. You can find all kinds of cute, printable thank-you cards on Etsy as well!
5.) A photography backdrop (or just a posterboard)
Whether or not you use a background depends on your personal preference and what works best for your Poshmark closet. What kind of background you need depends on your personal style. If you're going for a modern or minimalistic vibe, you can easily do very well with a simple white poster board for flat lays or a white sheet you already own.
If you have more of a rustic, bohemian, vintage, or niche vibe you might want to consider a backdrop with a wooden or textured look. There are all kinds of photography backdrops on Amazon. You can use these for flat lays or for more traditional images. Whatever you choose, I'd recommend picking something that is not too busy.
Remember that your backdrop should be improving the quality of your photos, not distracting from the item you're trying to sell. When I started Poshmark, I just bought 4 couple cheap, white posterboards from Walmart. I laid them out in a big square because one of them wasn't enough to photograph jeans on. This cost me less than $5, worked very well, and I still use them to this day for some images!
6.) A clothing steamer (Optional)
If you don't already have one of these, strongly consider getting a steamer to get rid of wrinkles in your items. They'll photograph much better without wrinkles and the better your photographs are, the quicker you'll be able to make sales. Don't buy this immediately, because it's a bigger investment. Wait until you're making consistent sales.
When you're photographing 30+ items of clothing in one session of work, a steamer will really help you speed up your workflow and get better pictures. When you're ready for a steamer, buy a high-quality one with a large tank. If you get a handheld steamer, you'll be refilling it and waiting for it to heat up several times throughout your workday. If you already have a handheld steamer, you can use that in the meantime!
7.) A printer, ink, and paper
You just need a printer that works well and that you thoroughly understand how to use.  Use what you have on-hand, but if you have an inkjet printer, consider buying something more cost-effective when sales pick up.
8.) Bubble wrap (If you sell shoes, purses, and accessories)
If you sell higher-end purses and shoes, you'll need bubble wrap on hand to securely ship these items. Better safe than sorry! You don't want your item getting damaged in the shipping process. It's another expense, but if you're sourcing the correct brands and pricing correctly while selling on Poshmark you shouldn't have an issue keeping all of your supplies stocked.
9.) Tissue paper, ribbon, and other things to beautify your Poshmark packages (Optional)
This stuff is all completely optional! You won't be using this stuff in every package – but you'll probably want it for some of them! Posh supports women's, men's, kids, and babies items, but the overwhelming majority of items on Poshmark are women's and Poshmark shoppers are used to receiving thoughtfully packaged gift-like packages.
You can get packs of tissue paper for $1 each from the dollar store! Small decorative items can be bought to spruce up your packaging – ribbon, twine, and craft paper, for example. I find that buying a larger pack of tissue paper at TJ Maxx or Marshalls is actually cheaper then the dollar store.
10.) Tools to prepare your clothing for photographs and sales
Your reseller toolkit will be made up of a bunch of stuff that helps your clothes retain their value and look better in photos (and in person.) You probably have a bunch of this stuff already!
A lint roller (an absolute lifesaver)
A sweater shaver, for getting rid of ugly pilling on almost any clothing item. This is a LIFESAVER!
Shoe polish if you sell shoes
Goo Gone or a similar product for getting rid of the residue left by price tags
Scissors
Stain remover pens (So convenient for quickly getting rid of small stains you missed at the thrift store!)
A measuring tape (The floppy kind, not the stiff kind used for construction/woodworking.)
Okay, so say you have an extremely low budget. Here are the Poshmark supplies I'd recommend.
Here's the bare minimum I think you should get as far as supplies go just to get you started selling on Poshmark seriously:
Clear poly bags x 100 in one, larger size that can fit all or most items (About $12-14)
A roll of shipping tape from Walmart or a local store – they only sell packs of 2-3+ online ($2.50)
Scissors (You probably have these already – if not, then about $3)
3 cheap packs of thank-you notes/cards from the dollar store ($3)
A few packs of tissue paper from the dollar store ($2)
Print labels at your library or another local facility (Usually about 10-25 cents per label)
USPS Priority Mail boxes (NOT the "Priority Mail Flat Rate" ones, only the ones that just say "Priority Mail") (Free)
Photography background: white poster board from Walmart ($1-3)
Total: About $27 + (10-25 cents per shipping label printed) Not bad! You can do very well with this toolset. If you're on an extreme budget right now, start with these very basic tools and then upgrade as you start selling on Poshmark more frequently.
---
If you have a little more room in your budget, here's what I think you should definitely get ahold of:
Clear poly bags x 400 in various sizes (About $20)
USPS Priority mail boxes (Free)
Paper, ink, and simple Bluetooth enabled printer ($80)
Beginner photography lighting set (About $60)
5 packs of tissue paper from the dollar store ($5)
5 packs of thank-you cards from the dollar store ($5)
5 rolls of ribbon from the dollar store ($5)
A large pack of shipping tape ($18)
Clothing steamer (About $75)
1 photography backdrop ($15) or white posterboards ($5)
Total: About $280 Not a bad up-front cost to start a business!
---
I hope this post has been helpful to you! These are most of my recommended supplies for selling on Poshmark when you're planning on getting serious about Poshmark as a part-time or full-time income source. Is there a specific item you can't live without as a Poshmark seller? Let me know in the comments! Mine would probably be that sweater shaver… I can't count the number of times I'm packing up a shirt and I notice a little bit of pilling I didn't see when I bought it! I use it on my own clothes as well, to keep them looking new-ish. What a wonderful little device.
Pin me for later!